On October 19, 2001, Mike Basil began his dealership, Mike Basil Toyota, with a mere nine employees and fifteen cars in his inventory. With hard work and dedication to his customers, Mike has built Basil Toyota into a hugely successful Toyota and used car dealership. Basil Toyota now employs approximately 60 people and has 600 cars in inventory, with an average of 200 vehicles sold monthly.
Mike Basil's personal philosophy is that the dealer needs to be available, open, and honest to the customers. This, combined with Basil Toyota's overall philosophy is to be the easiest place to buy or lease a car without hassles is why we have the highest customer satisfaction service department in Western New York. Basil Toyota also boasts consistent Sales and Service Excellence Awards among other prestigious awards.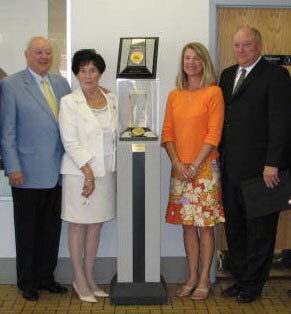 Each year, Toyota Motor Sales recognizes its stellar dealerships with the prestigious President's Award. It's a very high honor a dealership can receive from Toyota, and is only awarded to those dealerships who have demonstrated a commitment to maintaining Toyota's high standards for customer satisfaction.
In order to qualify as a President's Award winner, dealerships must excel in each of a series of categories, including Customer Sales Satisfaction and Customer Service Satisfaction. Dealerships which meet the requirements in all categories receive name badge recognition at all dealer events, national recognition in an Automotive News advertisement and, of course, the beautiful President's Award Tiffany crystal trophy.
Our Team at Basil Toyota is proud to say that we have won this prestigious award six years running
(2008, 2009, 2010, 2011,2012, 2013).